Order and Download Chinese Farmer's Calendar Software
---

Google Checkout/Wallet - Credit Card Payment
Remember to click on the 'Download Chinese Farmer's Calendar Software' link after the payment processing to get the report location.
Send email to mastertsai@yahoo.com, if you don't receive the download page after payment
Google had stopped the Checkout Processing, please use PayPal.com $50 Download Chinese Farmer's Calendar 1900-2200 (Farmer's Almanac) Version 5
Your credit card statement will show "Google Checkout-Wallet" or "Google * 3 B Books SVC" in the payment description.
The software is more than 10,000,000 bytes. You need a high speed Cable or DSL line Internet connection to download.
The file for download is a ZIP file. You need to unzip the ZIP file and then install the Chinese Fortune Angel.
No Angel software CD/DVD will deliver to you.
No return, refund or exchange for the software download version.
Remember that to click Download Chinese Farmer's Calendar Software text link to get the download page.
If you miss it, then you send your mailing address to mastertsai@yahoo.com and we notify you the location to download the software.
The post-installation password will email to you later, after payment is charged by Google Checkout/Wallet.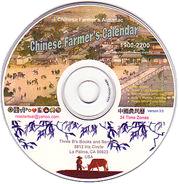 300-Year Chinese Farmer's Calendar

Home Page