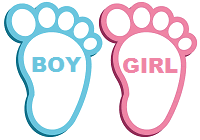 The Chinese Baby Gender Prediction Calendar Chart of Ching Dynasty was revealed in 1972. The Baby Gender Prediction Chart is posted in Chinese Farmer's Almanac every year. It said that Chinese Baby Gender Prediction Chart has very high accurate rate according the survey in the hospital's delivery room. more in the Origin of Chinese Baby Gender Predictors ...
The Chinese Baby Gender Predictor is based on an ancient Chinese Baby Gender Prediction Chart.
The Baby Gender Prediction Chart uses woman's Chinese age and conception/pregnancy month to predict baby gender. Chinese add their age on the Chinese New Year Day, which is from Chinese Lunar Calendar. The following Baby Gender Predictor will do the lunar calendar calculation for you to predict baby gender easier.
Select woman's birthday and conception date using western Gregorian calendar
Must enter time zone (Lunar Calendar is slightly different each time zone)
Press Submit button to get the baby gender, Chinese age and lunar month at conception.
Find time zone, click here

2017 Chinese Horoscopes of Red Chicken Year


2017 Five Element Chinese Horoscopes


Limited Time: Free Reports Before 1/28/2017


Donald Trump Campaigns for US President
The related Baby Gender topics are in the following.

Baby Gender, Name and Bedroom