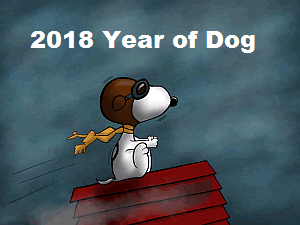 2018 is the 4715th Chinese Year. The Chinese zodiac Name is Brown Dog. The astrological year starts on February 4, 2018 and Chinese New Year Day is on February 16, 2018 at China time zone. 2018 Chinese Horoscope Predictions for 12 Chinese Zodiacs and Chinese Five Element Astrology are ready for free query.
If you are new to Chinese Five Element Astrology, then we can reveal the secret of your fortune by giving your Lucky Element and showing your Rise and Fall Life Chart. We hope that you can live luckier, wealthier, healthier, happier and longer.

2018 Chinese Zodiac Dog vs. Birth Chart


2018 Chinese Five Element Astrology


2018 Chinese Zodiacs for Dog Year


Find and Plan 2018 Happy Day Event


Snoopy: 2018 Chinese New Year Dog

Before 2018 Dog New Year

2018 Free Promotion Reports

2018 Free Future Daily Astrology

Most Popular Horoscopes
Reveal The Secret of Your Life

Love Match - Very Accurate


Will Donald Trump be Impeached?
2018 Special Chinese Zodiac Days to Watch
2018 Predictions

Zodiacs

Five Elements

Rise & Fall Chart
2018 Chinese Baby Gender Prediction Calendar